FCC June 30 Deadline - Are You Compliant?
Written on Jun 07, 2021.
<! -- convert html site https://word2cleanhtml.com/ --><! --------------------------------------------------- START Text -->
Hello Partner,
Are you compliant with the FCC June 30th RoboCall mandate?

Key 2021 dates you should be aware of:

June 30th – Certification must be completed (i.e. STIR/SHAKEN call authentication or RoboCall Mitigation solutions must be implemented)


September 28th – The FCC will prohibit service providers from accepting calls from non-compliant service providers (this means your customers' calls will NOT go through)

The FCC requires that you, as a Voice Service Provider certify one of the following:

That traffic as of 6/30 will be either fully, partially or not signed with STIR/SHAKEN


If partial or not signed, a RoboCall Mitigation Plan (RMP) must be submitted with the certification or implementation of the STIR/SHAKEN caller ID authentication framework.
Bulk Solutions wants to ensure you are aware that as a current CNAM customer, RoboCall Mitigation can quickly be enabled on your account, making you eligible to certify with option 2 above.
Furthermore, we are introducing STIR/SHAKEN Authentication and Verification Service, should you choose to sign your calls with Tokens. We have provided visuals below to help you understand the services and how they can benefit you.


If you are interested in implementing the CNAM Robocall Mitigation solution or our STIR/SHAKEN Authentication and Verification services, please email sales@bulkvs.com.
Lastly, keep in mind that calls you terminate using our service will have STIR/SHAKEN tokens embedded with Attestation "A" if DID is provided by us, or "B" if DID is with another provider.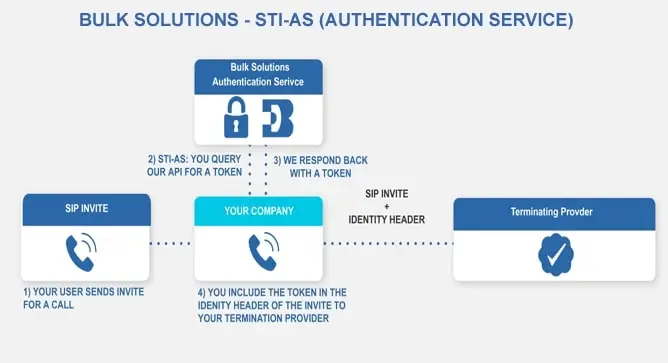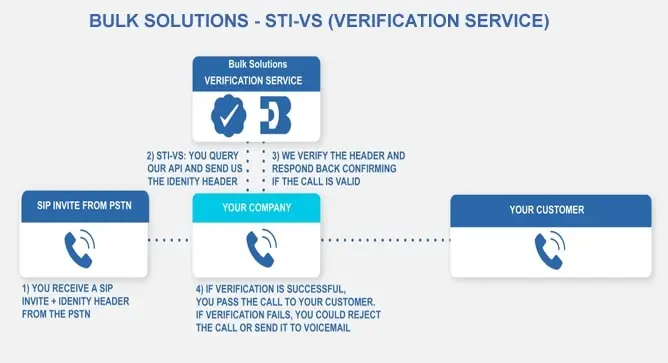 <! --- END Text --><! --- Start Remote Link -->
---
Read More
<! --- End Remote Link -->